Staff of the University Health Services (UHS), Ahmadu Bello University, Zaria, have organised a send forth for Mrs. S.B. Kadiri who retired recently after serving the organisation for over 20 years.
Mrs. Kadiri, who is regarded as a sanitation icon, retired as Head of Prevention and Sanitation of the University Health Services, a position she held for that period of time.
Speaking at the event organised at the premises of the UHS Prevention and Sanitation Unit on Monday, the Director, University Health Services, Prof. M.S. Isah, described the celebrant as a committed and selfless staff throughout her sojourn in the organisation.
The Director, who was represented by the Coordinator for the University's National Health Insurance Scheme (NHIS), also said that Mrs. Kadiri left a legacy that would continue to propel everyone.
"As Mrs. Kadiri always considered the UHS Prevention and Sanitation Unit as a family; things will continue this way even in her absence; and we pray that Allah (SWT) will continue to guide and reward her abundantly in her future endeavours", he said.
Responding, Mrs. S.B. Kadiri expressed appreciation for the support given to her by all the staff she worked with for over 20 years as head of the unit.
"Honestly, I did not anticipate this honour. Please forgive me for the wrongs I did outside the work. And, where I offended you officially, consider it as a constructive action", she said.
Mrs. Kadiri stressed that she considered the unit as her family and bedrock despite the challenges she encountered, and called on all staff to embrace synergy in discharging their duties.
In her goodwill message on behalf of all the staff of the Unit, the Local Organising Committee (LOC) Chairperson, Hajiya Hadiza A. Namaska, appreciated the staff for their presence, and asked the celebrant to also forgive them where they were wrong. She wished Mrs. S.B. Kadiri long life and prosperity.
The Head, Preventive and Sanitation Unit, Jibrin Sani Maska; Head Audit, Alhaji K.O. Yusuf; Head Forest Guard, Mohammed Bawa; Head of Parks, Mal. Umar Salisu; O.C. Security Bilyaminu Abubakar; and Store Officer Mr. Luka Linus, all attended the event.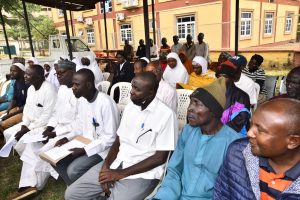 ………………………….
Public Affairs Directorate,
Office of the Vice-Chancellor,
Ahmadu Bello University, Zaria
Tuesday, 21st November, 2023