ABU team visits Speaker House of Representatives
The Vice-Chancellor of Ahmadu Bello University (ABU), Zaria, Prof. Kabiru Bala, on Tuesday 26th September, 2023 led a delegation from the University to pay a courtesy visit to the Speaker of the House of Representatives, RT Honorable Abbas Tajudeen, in Abuja.

The visit aimed to strengthen ties between the University and the legislative branch of government and explore collaborative opportunities in research, energy, and sports development.
During the visit, the Vice-Chancellor congratulated Speaker Abbas Tajudeen on his well-deserved appointment as the 15th Speaker of the House of Representatives of Nigeria. He expressed pride in seeing an ABU alumnus ascend to such a prestigious position in the country's leadership.
Prof. Bala conveyed his heartfelt prayers for a successful tenure, hoping that divine guidance would be with him throughout his tenure.

One of the key areas of discussion during the meeting was the tremendous potential within ABU's Center for Energy Research & Training. Prof. Bala highlighted various areas, including power generation and soil fertility, where ABU's expertise could contribute significantly to national development.
He emphasized the importance of collaboration between the University and the office of the Speaker to harness these opportunities for the benefit of Nigeria.

The Vice-Chancellor also shed light on the vast potential in sports activities at ABU. He explained that with the right support and investment, the University's sports programmes could not only contribute to the development of sports talents but also generate substantial income for the institution. He proposed exploring avenues for public-private partnerships in sports development.

In his response, Speaker Abbas Tajudeen expressed delight at hosting the Vice-Chancellor of his alma mater. He fondly recalled his academic journey at ABU, where he obtained both his first and second degrees.

In a show of gratitude and commitment to his alma mater, Speaker Tajudeen who holds the prestigious title of Iyan Zazzau, pledged to do everything within his means to support ABU in achieving its core mandates of research and learning. He recognized the significance of research institutions like ABU in national development and promised to advocate for increased collaboration between the legislative and academic sectors.

The meeting between the Vice-Chancellor and the Speaker signifies a potential partnership that could lead to substantial advancements in research, energy, and sports development.
Present at the visit alongside the Vice-Chancellor were Prof. Sani Abbah Aliyu, Director, Directorate of University Advancement; Prof. S.A. Jonah, Director, Center for Energy Research & Training ABU-Zaria; Prof. I.M Umar, former Director CERT; Mal. Mohammed A. Sadiq, Chairman, Sports Development Committee; and Dr. A.I Danlami Director, Sports ABU-Zaria.

Others include Dr. Saíd Aliyu, CERT; Engr. Shehu Aliyu Usman, CERT; Mal. Auwal Yusuf, Special Assistant to the Vice-Chancellor; Malam Is'haq Murtala, Administrative Secretary, CERT; Mr. Ingino D. Voh, Public Affairs Directorate; Ismail Yunusa Saleh, Finance Officer, CERT and Bashir Yakubu, Member Sports Development Committee.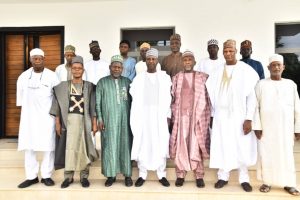 ………………………
Public Affairs Directorate,
Office of the Vice-Chancellor,
Ahmadu Bello University, Zaria
Thursday, 28th September, 2023